"When you put your hands towards me, that is a

Mantra

."
"You see, there is no need to say it more, but the thought in the mind the emotion, is what we spread our hands to that and it should work. When this emotion is absolutely complete there is no need to say a mantra- you go beyond it. So one has to be absolutely effortless, absolutely effortless. Meditation is for your own ascent, is for your own capital gains that you have to have, but once you got it, you also achieve your powers. At this time you don't have to think about anybody else. You are not to put your attention to anybody else but just receive, just receive it. Do not think about any other problem, but that you have to be absolutely effortless. It would work the best on the people who are 'just' Receiving it." (excerpt from Shri Mataji's lecture on January 1, 1981, London, UK)
"As Mohammed-Sahib has said, Your hands will speak and they'll give witness against you. So on your hands you will know. Our hands are the blessings of Krishna as they come from the same Vishuddhi and the two chakras, the Lalita Chakra and the Shri Chakra. If the left or
right Vishuddhi is too strong, we may not feel vibrations, but that doesn't mean we don't have realization. To work out our hands, we shouldn't use them for useless things because they are special. These hands are the ones with which you spread the collectivity.
Gesturing should be reduced so that any movement with the hands is decent and regulated. It should be indicative and useful. Just showing off your hands is not good. We should not point with Shri Krishna's finger (the index finger).
Saying Namaste with our hands drawn together, we can collectively greet thousands of people at once. Shaking hands doesn't create any collectivity, and can cause problems from others.
With our hands we can cure our children, we can suggest our softness and our sweetness.
Your gestures should show very heartfelt emotions.
Our Hands are really the beginning of Collectivity." 
(from Shri Mataji's Talk on Shri Krishna – Synopsis, Cabella, Italy, August 16, 1992)
"And that truth, whatever you call it – scientific or divine – whatever is truth – has to be expressed on our central nervous system. That means we must feel it. We must see it. It should happen. Mohammed Sahib has said ( they all have said the same thing, only depending on the times as they were) that at the time of resurrection, when the humanity will rise, their hands will speak. They talked of resurrection most of the time, but somehow they never talked of it only as the doomsday. And this is the reason why whatever was important in every religion, was not given the proper importance. That's why today, the situation is such that we find all of them, all in different compartments. But they're not. They were all born on one tree of life at different times . . . the same energy of love which nourished them and they flowered."
"When the Kundalini rises by itself and pierces through, what happens? That your hands start speaking! You start feeling all around you the cool breeze of the Holy Ghost. You start feeling the cool breeze of the Holy Ghost coming out of your head also.
Now, when I tell you what are these (chakras =subtle energy) centers for, what will they denote on your fingertips and you start practicing it. Start seeing how it works out and then you realize it's true what I say. :-)"  (excerpt from a Public Program of Shri Mataji in May 1986)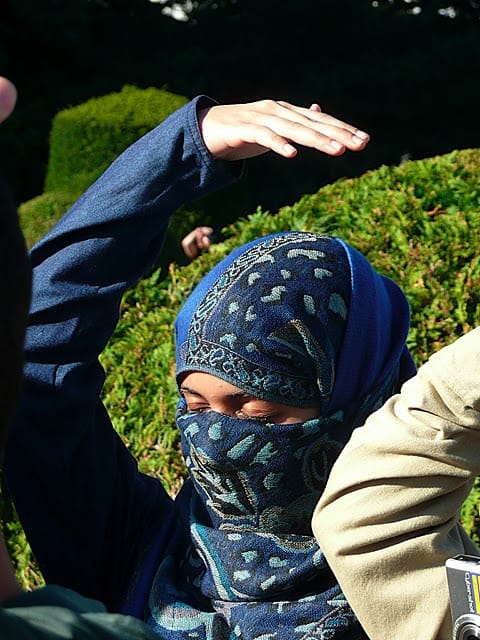 "I think now we should go in for meditation and try to get your Realization (the awakening of Kundalini energy). Will you please put your hands out towards me, just in humble way.  Because you have known so far, and you will know it when you will know it.  So put your hands towards me like this and I've told you there are  .. Chakras .. here..  on our hands.
I must tell you today I met some Kashmir Muslims.. Suddenly they did feel for me something, I don't know how.  And they said, 'Are you the Mother'? I said, 'Yes, I am'. They came to me and then said that you must tell us about 'RUH', about spiritual life, about Spirit, they came to me. I said alright put your hands towards me like this. They put their hands towards me and they felt the cool breeze. And they said 'This is what it is. Mohammed has said that your hands will speak. This is it. That's the truth.' I said yes, when you have your second birth, you will give up all the nonsense of so-called religions which are separated. They were never meant to be separated, they were meant to be integrated. But you have done it, doesn't matter. Now by God's grace Sahaja Yoga has come, you'll have your second birth, so that all things that were attached to your birth will be finished and you will be new person having the new life in which you forget all that is attacking you, is attached to you, which is dragging you, which is making you think, think, but Not ascend! I'm very happy these simple Muslims who met me, they were in a shop selling something, and they were so sweet and so beautiful. They didn't say: "you are not Mohammed!", nothing of the kind. They said, this is what Mohammed has said, that at the time of the resurrection, your-hands will speak, and what are these people fighting for, you see this what it is. May God Bless you All."  ( Talk on Nabhi Chakra and Prophet Mohammed on January 31, March, 1983)

Chakras
& Vibrations & Nervous System

–

Felt from Brain to Brain  as in a

Computer Network
"And the vibrations which flow on the nervous system. Say now supposing somebody is having a problem, say, on his heart. So as soon as he puts hands to my photograph, so immediately he gets problem (feels the catch, the issue in the chakra) on his left finger here.
The brain is working. So in your brain my vibrations move of Shri Krishna, and they start sending these messages, because I am also Shri Krishna. So this computer acts and immediately you know what is wrong with that person, is he is a heart patient?! Don't have to do any diagnosis, don't have to do anything, immediately you know, and who does this?!..  is the principle of Shri Krishna in the brain of the Virat. Now you are convinced about it, you know that it works, it acts like this, it happens like that. And
how it communicates through you? So this computer of mine communicates – in a computer, if you go you can just press the button, of course they're all man made, but whatever it is you then get the result, here it is not like that. It is the brain automatically gives the result, immediately. Through the other person. And also the same brain tells you what is to be done to such and such person, how to work it out. The same brain is emitting vibrations, and those vibrations are flowing through this brain, and they are the ones who tell you what's wrong with this person. So all this work of penetration is done by Shri Krishna (the divine principle governing the Vishuddhi, known as Throat chakra). No doubt, he takes these vibrations, puts into another brain, and then that brain that center nervous system starts working, and then you get the result. But Instantaneously! It's not so much time it takes, the way I have described it just works immediately, as soon as they put the hand before me..  immediately." (excerpt from Shri Mataji's talks related to the importance of the sahaj way of meditation)
Now, let's remain in meditation for a while,  joining these 2 sahaja yogis on the beach, with open hands, in silence, we'll feel how this simple gesture is acting as a Mantra .. and brings us all.. together ..  connected. We can also try to keep our hands open and without reacting, without any thought let's watch the first photograph, from the top of this article,  the one with the open hands of Shri Mataji .. as she is showing us "how". Enjoy your meditation!